In 1987 I wrote a paper on the film Labyrinth for a graduate course. I don't often read my old college papers, but with the death of David Bowie earlier this month, I felt the need to watch the film again, on my rusty old VHS player. And that piqued my curiosity to see what I had written nearly 30 years ago.
I was a new mother then, and my paper, which liberally quotes Lacan, Freud, Metz, and de Lauretis, focused on mirrors, mazes, and absent mothers. I will spare you the details, and not because I am humble, or because it might be crap, or simply belong to another time. Rather, the only copy I have is the original typed essay, complete with my professor's hand-written comments and criticisms. I am too lazy to scan it to PDF, too proud to let you see my typos or those comments, and I don't know if I could re-type it without pursuing where I know it falls short.
Because what surprised me, in re-reading that essay, is that David Bowie, man and image, signifier and signified, is almost nowhere to be found. Maybe I was too nervous or unsure how to weave his mutating gender formulations into my (or Lacan's?) construct of mothers and mirrors, or to think about my own role as viewer and mother, my individual history with that image? That is a significant missed opportunity, and could sidetrack or subsume my 1987 argument. I sure wish I had the intellectual stamina to think that through now.
And yet.
Memory is my oubliette. As I mentioned on Twitter two weeks ago, David Bowie's music helped form the soundtrack of my life, from vinyl to iTunes. Thinking about my Bowie encounters, I move back in time, not unlike his 2014 greatest hits album, Nothing Has Changed, which I forgot I owned until a couple of months ago, and have yet to really listen to in its entirety from end to beginning.
Before I forgot that I owned that album, I had already forgotten to make time to see the David Bowie Is exhibit at the Museum of Contemporary Art in Chicago earlier in 2014. A friend and I talked and tweeted about it, but we never made it.
Earlier, I had forgotten that I went to a Bowie concert, way back in 1990.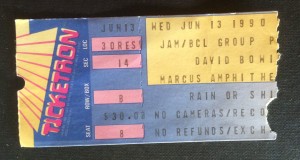 What I remembered about that show, when I recently found my old ticket stub, is taking the leap to pay $30 – the most I had ever paid to see a live concert. The concert itself? Not so much. (Thanks to the internet, though, now we have the playlist.)
A decade before that, just before I completed my B.A., my professor and friend, Teresa de Lauretis (whom I would later quote, quite intentionally, in my Labyrinth paper), took several of us to the first ever "Bowie Con" in Chicago. Con it was – no Bowie sighting, just a lot of fans and vendor booths. But I really don't remember much beyond the cavernous setting and the feeling of having paid too much ($10).
I can't make my way through this little maze of forgotten ephemera to find a beginning, or, rather, an end to this story. It's the songs, not the experiences which I remember, and there is not – or is no longer – a first time for me. There always were albums, arguments, mixtapes, interpretations, singing loudly in the full car or the empty house. But at the end of Disc 3 of Nothing Has Changed, at the beginning of Bowie's career, there are songs I don't recognize, don't remember, and I suspect I never knew.
So I will close this with the one Bowie experience I have never forgotten. Long ago, my daughter and I visited one of the Madame Tussauds London wax museums, and took advantage of the photo op. David Bowie the signifier may have been missing from my essay, but not from my life.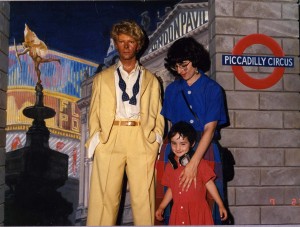 P.S. (and shameless plug): I've been absent from this blog for a very long time. Over the last couple of years, I have been devoting most of my energy to building a new business, Philanthrodata, and my writing has been focused on my professional interests. If you are interested in knowing more about prospect research and database management in the nonprofit sector, you might like to check out my other blog.
©2016 Sarah Bernstein